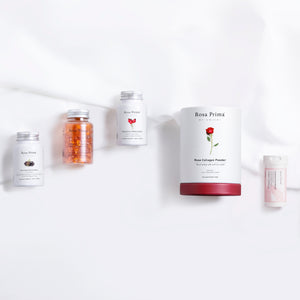 NATURAL BEAUTY COMES FROM WITHIN
The Rosa Prima collection defines feminine sophistication.
Just as the rose represents a perfect balance of strength and beauty, Rosa Prima supports women's inner strength and beauty from the inside out.
The active ingredient in each premium product is rose or the fruit extract rosehip, which complements the beauty regime of women who are intentional in their pursuit of health and happiness. 
Our Rosehip Supplement collection has a product range of quality and tested rosehip capsules, rosehip powder, rose oil soft gel and grape seed extract capsules.